A Life-Transforming Event for Participants
– More Commission Checks for You.
Our next launch is coming up for our Best Selling Program,
Awakened Wealth Mastery, and you can be a part of it!
In the last course, students generated over $2 MILLION DOLLARS in NEW money, manifested many jobs and opportunities, erased thousands in debt, healed relationships, discovered their purpose — and transformed their mindset around making, spending, and having more money than ever!
As our affiliate partner you can profit greatly, while helping people to completely transform their ability to accept and receive abundance in all areas of their lives.
Commissions for You: We pay 40% commission, and our Awakened Wealth Mastery Program Price: (Includes payment plan options) This program provides huge value: 9-weeks of live calls, abundant materials in the way of audios, tools, workbook, worksheets and bonuses that he gives to really nurture the participants. For years we have offered the program for $697 full price or 4 payments of $197. This year we are considering a higher price and, respectively, a higher payment plan. Please stand by as we will announce the final price soon.
Affiliate Partner Contest: Want to profit even more? Then the more you refer the more you will! We pay tens of thousands in prizes to top referring partners!
We value and appreciate our partners and one of the best ways to thank you for sharing abundance with others is to increase your abundance too. It's a fabulous win-win-win!
The Dates of the Launch: April 3rd to April 21st.
(Make sure to add these dates to your calendar right now).
The Bonuses Participants Receive
are Over the Top in Value: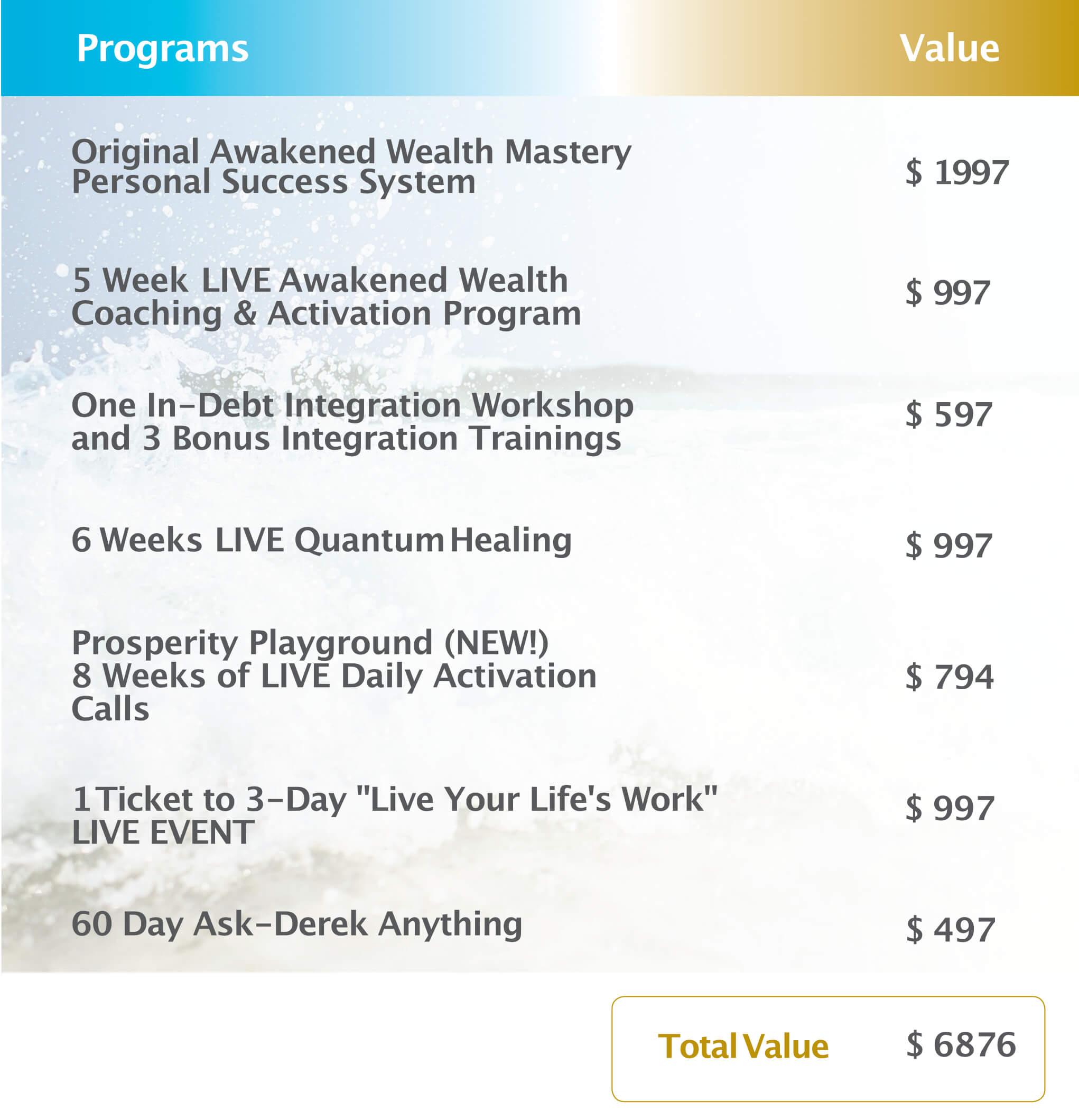 Ready to join us? Please fill out the application below.
Need more information about the Awakened Wealth Mastery program? Just contact our partner manager Chris at Partner@DerekRydall.com.
We sincerely appreciate you and your work, and look forward to creating a new levell of awakened wealth on the planet together!
Derek Rydall
www.DerekRydall.com
 - Sign up as an affiliate! -